A'kum n ello..
i have something that i regret.
1n2d's fansub had this project once,something like
'gather stuff and also emails and comments from all fans in the world and send it to the 1N2D's staff at korea
' (click
this
if you wanna know there real thing)....and..
I DIDN'T JOIN THE PROJECT!!!
I DIDN'T SEND THE EMAIL NOR THE COMMENT!
if i know beforehand that KBS will show the 'project' to the on the real 1N2D's show..i should have send some sambal belacan or durian to the 1N2D's crew...
ai.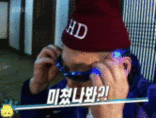 credits:
1n2d's fansub and chubbchunk
in the show, the gifts that the fans(outside of korea) sent to the show were showed in the latest episode of 1n2d(at korea)...and some stuff like a beanie that have kang ho dong's initial (KHD) and this cool unique goggles, and all the members were like excited wearing the stuff from the non-korean fans...
wa~~..i,as a fan of 1N2D,and someone who had that 1 chance to prove that i'm a fan,blew it.
haha.
but never mind,it was nice to see that they were excited to have that stuff...i read the comments,and someone even said "i SURE KNOW that beanie"
nice~
ainun,congrats meh~~!!!!you're a future medic student!i salute you!