A'kum n ello..
today is a VERY VERY NICE DAY.
i feel like doing
THIS
thinking about today.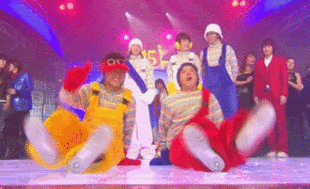 cos seriously, among all the days in this week, i think today is the
best day
.haha.
1stly,i
finished all my assignments
.
i finished my lab reports(not include Bacteriology cos Sir Roslan just give it today) and CTU essays.
Every night(on this week), i studied with negative spirit,bcos the study was more like by
FORCE
instead of '
I WANT
' .
on
Monday night
, i read Immunology cos i had Immunology test on the next day, which was
BLOOODY BAD.
on
Tuesday night
, i did the Genetics lab reports after i watched Chuck, bcos KP
demanded
us(me and aqilah) to send them on the next day, which in the end was kinda
(stupid) cos i thought KP already done her work (it's a group work) after her "
KITORANG KENE HANTAR ESOK~~
". but nope, she didn't finish it yet eventhough she stayed back after class to so-called study with the other mates.ai~
on
Wednesday night
, i did the Analytical chem lab reports,cos it past the due date. on this day also, KP told us that we need to send our CTU essays on
Friday
, and she told me to do an autobiography about Al-Battani and aqilah had to do Jabir Ibnu Hayyan,which both aren't that popular among all the Muslims Legends.
on
Thursday night
, i did the CTU essays and did some of the Analytical chem lab reports eventhough it already past 2 days of it due date. and i didn't study for CTU test and Bacteriology test eventho the test is on the next day.
on
Friday
,as in TODAY,
WE
(alia&aqilah) found out that KP did an autobiography about
IBNU SINA
. seriously,IBNU SINA. he's like the EASIEST LEGEND AMONG ALL THE LEGENDS OF MUSLIMS that can be found at the internet. and she chose that without us knowing it. and she let us do 2 of the most difficult one. still, in the positive note, i
KNOW
WHO IS AL-BATTANI,and and I
ALREADY KNOW
ABOUT IBNU SINA.
BUT, like i said before,
TODAY IS A GOOD DAY.
i only read the first 5pages of that CTU book, and i got
26
/30. cool. thanks to the infos that i read last minute,and also some of the knowledge that i know by heart, i FINALLY got good marks after some bad marks, like 11.5/30(analytical chem's first test).
and not just that, there was
NO BACTERIOLOGY test
,again. and also, i was focus during the lecture.
and to add another one, my maid made Mee+Hoon Soup for lunch and maybe for dinner.hoho.
so.that's all.
ta then!
ps: damn it. my camera is WRECK!!