A'kum n ello...
you see the boy that just threw
THAT
red ball?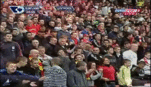 and don't you think the ball is
similar
as the one from the previous image,?
guess what?
IT'S THE SAME BALL!
ok.no lame joke intended.
by the way, to make matters more unique and funny,
THAT
ball was the decider of the Sunderland vs Liverpool match. the ball,eventhough it was thrown by a LIVERPOOL FAN,and also has a LIVERPOOL LOGO on it,and also,ON SALE AT THE LIVERPOOL FC OFFICIAL STORE WEBSITE, it HELPed the REAL BALL went into the opponent's goalie. so,Sunderland 1-0 Liverpool.and that's the full time result.
Liverpool totally have no luck just now. or maybe they can consider themselves lucky that Sunderland didn't score 4 goals,or else Aquilani will be thinking why the hell he joins Liverpool.
seriously, i never seen that bad of a midfield. Jay Spearing,yes you're a good player but seriously,WHAT WAS THAT? and i wonder why Liverpoolfc.tv chose him as Liverpool's man of the match. maybe bcos others was VERY VERY BAD? and lucas, you're just BAD.
most of the fans already give up the title dream. whatever then. i don't want to give up. i just have to be positive. if i lose my faith in this positive thinking,i'll lose myself. after all, i don't have any good thing to do on weekends,except watching those Liverpool matches.
give up all you want,but Torres once said "you can choose to give up and do nothing,or not give up and do something"
i'm still alive,so i'll keep the faith then.
i'm a Muslim after all. i won't give up that easily.
GO LIVERPOOL,GO! YNWA!
ps: Rafa,please call Nemeth back.
credit image:
http://www.empireofthekop.com/ & skysports