A'kum n ello..
i know i've been blogging about football in the last few posts.
i won't say sorry.
if you want to be like this:
...cos i post too much about football,
i'll be like this to you: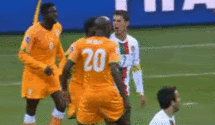 lalalalalalalala.
ps: Christiano Ronaldo has twitter. i follow him 3 days ago,i think.