A'kum n ello...
i want to blog about something, but the scanner is wrecked right now,so i can't blog about what i want to blog.
i dunno if you understand but please try to understand and just ignore it if you don't really understand. or maybe just ignore whatever i just typed.
hrm hrm.
i'm trying to think of what to blog.................
oh.
tomorrow is
BEAST's showcase
.
say YEAY YEAY YEAY TO ME!!!!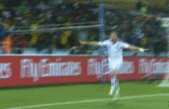 the Uruguay player say: YEAY ALIA IS GOING TO BEAST'S SHOWCASE!!!!WEEEEEE!!!
sorry Alisa. i know i should be helping you with all the University stuff, but sorry dear, do it yourself. you need to know what it feels like to be an adult. and i'm just too lazy to care about your first day at university.
ok.
back to BEAST.
yesterday, i went shopping with aqilah. it was kinda cool cos we bought the gift for Doojoon(me) and Yoseob(Aqilah). mine was kinda nice. but i love aqilah's gift. i'll show you the gifts AFTER the showcase.you know, just to avoid people to copy-cat if they accidentally see this blog of mine (if i really put the picture of the gifts.)
and oh, i have to
practice high-five
. i just found out that Beast high-fived all the fans' hands in Philippines and Singapore. so obviously they'll do that to the fans in Malaysia too,
unless if JAKIM told BEAST not to high five us.just kidding,seriously
cos it won't be fair if we don't have that high-five.
so Doojoon, i'll be waiting for you....
and hey yo cutie Dongwoon, i'll wait for you too.
[bcos she just like Dongwoon for a few days,so there is no picture of Dongwoon in her folder]
i dunno if there's a football match on the night
, oh there's Uruguay vs South Korea at 10pm. and wow, the Beast members maybe don't have the time to watch the match.
...or maybe after the fansigning they'll shout
DAE HAN MIN GUK!
*clap clap 3x* and ask us to watch the match at the nearby mamak. woo,that'll be nice. [dream on~~]
anyway, Uruguay vs South Korea~~
i'm thinking of searching at this one certain Uruguay player......
hihihihihihihi.
ta then!